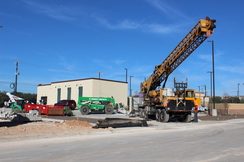 One of the retail construction management services we offer includes the bid walk. Sometimes the importance of this onsite walk can be overlooked in an effort to save time by merely sending out a set of plans and hoping the bidders caught everything. Often times during jobsite meetings we conduct, site specific conditions are revealed that were not on the plans that would have dramatically impacted the overall schedule, budget and owner expectations.
Another benefit of using this system is that the contractors have already been put on an approved vendor list, essentially creating a small group of on-site experts when this walk occurs. Potential project obstacles that might not have been seen by the owner, architect or project manager have a much better chance of being accounted for in a group setting, further reducing chances of surprise change orders during the project.
Following this walk we send addendum to the scope of work to all the bidders that includes the bid walk conditions, additions, alternate pricing requests, etc. These steps help ensure price accuracy, reduce the gap in bid variances, and create an easier platform for making our recommendations and for your final bid award as the owner.
Julien Management is a project management and construction management consultant working with existing staff or acting as the entire project management department. contact@julienmanagement.com