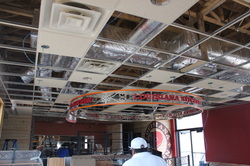 That is a question I often hear and am often asked. Aside from hiring or having in your toolkit a great project manager, there are an endless sea of project management tools with increasing complexity and learning curves. It really depends on your project.
A simple excel spreadsheet and a weekly conference call with stakeholders may cover all you need depending on the complexities. This could be a major time and headache saver.
If you are routinely working on the same type of project with many vendors, architects, contractors, and sites where many people need access to the same database of information, a more advanced custom system could really help (ie: Lucernex, Evoco, Others). Remember though, signing on to one of these larger systems requires a time and training investment both on your part as well as the vendors you expect to utilize the system and this may outweigh the benefits of using such a system.
I have regularly used both systems for different clients based on their needs, expectations, and/or systems they have in place already, successfully managing hundreds of projects across the country.
Two last important points to remember: Communication during the project is key as is the vetting of vendors and contractors during the pre-bid phase.
Dan Julien
Julien Management


email Dan to discuss your project and how we can help by adding to your existing staff or acting as your entire project management department.